The Barcelona Trip of Your Dreams
In 2015, I went to Barcelona to see the Spanish Grand Prix and fell in love with the city. In 2016, I went back with Katerina to fall in love with it together.
How I fell In Love With Barcelona – Twice
I was always fascinated by the zoom-zoom and the vroom-vroom; the thrill of lightning-fast vehicles and the raw power of roaring engines. Add in some acrid scent of burnt tires and it's a festival for all senses, especially if Ferrari wins the race in front of a fanboy like myself.
The track itself is located in the Montmeló municipality, some 12 miles north of Barcelona. I didn't expect to be impressed by the Grand Prix itself since I had been four times to Monza and twice to Monte Carlo for F1 races, which set a high bar.
Watching The Messiah In Action
No Barcelona trip is complete without a visit to the football stadium, Camp Nou, to watch Barcelona trounce hapless opponents on the home pitch. The firing pin of Barcelona for the past several years was Lionel Messi, the Argentinian football virtuoso. This time around, it was Real Sociedad on the chopping block, losing 2-0 through Neymar's goal in 51st and Pedro's in 85th minute.
Spanish people have a thorough fascination with football and genuinely treat devotion to their club as a religion. When it's matchday, the entire city lights up in colors of the two teams and all other news are pushed aside. There's no way to describe the sheer outpour of emotions that happens when a goal is scored – tears, laughter and shouting all mix together shake you to your core, no matter which side you're on.
It's with this side of Barcelona that I fell in love with and decided to revisit in 2016 with Katerina in tow.
Lost and Found
Looking at Barcelona from a bird's eye perspective reveals a neat layout of city blocks lined with greenery. No matter how much you zoom in, these pictures don't do Barcelona justice. The real charm is experienced only when you actually get on the ground level and see how wonderfully the layout works.
Unlike many other modern metropolises, Barcelona is designed to be pedestrian-friendly. You no longer feel like a wounded animal evading metal beasts hounding you but can actually take your time and stroll down the street at your own leisure. The greenery is meant to provide shade and encourage walking from one place to the next, and since small businesses line the streets, tourists get to discover all the wonderful quirky establishments and visit landmark architecture at their own pace.
You're meant to get lost in Barcelona and find yourself in one of its countless parks, squares or quaysides and just keep going. There are always new people to meet, treats to taste and landmarks to marvel at. There's nothing quite like Barcelona, where you can always find a brand new experience that no amount of videos and pictures can convey. This was the place I visited alone in 2015 and with Katerina in 2016.
Relishing Barcelona's Charm Together
We first visited the Cathedral of the Holy Cross and Saint Eulalia, which bears the name of a young Catholic martyr girl that was killed by the Roman mob for daring to doubt the pagan gods. Built in late 15th century, the church was revamped some 400 years later with a Gothic facade that added a whole slew of adornments, such as gargoyles on the roof.
I would be remiss not to mention all the tiny details that form a layered arabesque – triskelions, stylized crosses and more. You could spend hours poring over every square inch of every brick and still find new details to savor. Today, the church is the seat of Archbishop of Barcelona.
Narrow Streets Brimming With Delight
From the church, we went to stroll down Barcelona's alleyways. Another cool architectural feat of Barcelona is that high buildings surround the alleyways, creating a lot of shade that allows pedestrians to enjoy their time and just chill as the sun scorches outside this cozy little haven. There are ornate details everywhere but you could bump into a fancy shop like Cartier just around the corner.
Just like in the rest of Barcelona, there's no telling what you can find next but it's bound to be extraordinary. Street performers also find refuge in these alleyways, entertaining passersby and offering infinite amusement for a coin or just an applause. Our next stop was the city square.
Squarely In The Center Of Barcelona
Next on our journey, we visited Plaça de Catalunya, the official city square of Barcelona. The old and the new Barcelona meet here, combining the best of both worlds. There's art and statues everywhere though theaters and cafes that attracted quirky artists are no longer there, having slowly been replaced by hotels and banks more suited for international tourists post-Spanish Civil War. The town square is a major transport hub and you can see busy buses busing around, even at night. There's a metro station too.
One of the most famous art installments is dedicated to Francesc Macià, the first President of the Generalitat de Catalunya (1922-33), who founded the party that proclaimed Catalan independence in 1931. The installment is Macià's bust next to an unfinished concrete staircase that symbolizes how Catalan independence is being built one step at a time. The topic is a touchy one and Spaniards gush whenever it's brought up.
I know it's such a horrible cliché but we couldn't resist taking a few pictures of the square's fountain and the nearby park. There are flocks of pigeons mingling with tourists too, who play with them like children. Of course, pigeons pretend to just be there to share the excitement but are actually eyeing every inch of the square for any sort of dropped edibles. Speaking of which, we were already feeling famished, so we chose a random direction and landed in a marvelous cafe where we had lunch.
Coursing Through La Rambla
After lunch, we went through La Rambla, one of the traffic arteries in Barcelona. Every major city street is somehow connected to Plaça de Catalunya and they all lead to something wonderful while holding plenty of amazing sights to behold themselves. In the case of La Rambla, it was the Gran Teatre del Liceu, a mid-19th century theater with its own metro station and a wonderful lace-like facade. Verdi is a staple composer in Liceu, with "Aida" and "Rigoletto" having over 800 performances combined since the theater's opening. Both of them revolve about unrequited love, which I find says a lot about the Spanish enthrallment with romantic drama.
In La Rambla there's another theater, Teatre Principal, hailing from 16th century. Initially a donation of land and houses to the Hospital of the Holy Cross, Teatre Principal was given exclusive rights to host stage performances to fund the hospital. After several fires ravaged the building and Liceu opened, Teatre Principal exited stage left and quietly became a part of Barcelona's living history. Every turn you make, there's another layer of history just waiting for someone to explore it. So, we dove right in and visited the old harbor aka. Port Vell.
Dropping the Anchor In The Old Harbor
Port of Vell is a part of Port of Barcelona, hosting millions of visitors. Descriptions fail when trying to describe just how many people visit by sea in Port of Vell. It's like a veritable forest of masts gently swaying in the wind, all neatly stacked by one another by the thousands. We've barely explored a fraction of a percent of Barcelona but it feels like Port of Vell is enough for a lifetime of tales and adventures. You can actually go on a boat trip from here or just marvel at the sunset-bathed yachts.
Prior to 1992, Port of Vell was a rundown string of rusting, rotting steel and wood that the city officials simply tolerated. In 1992, Barcelona was to become a host of the Summer Olympics and Port of Vell was scheduled for a makeover. Millions were poured into revamping the Port of Vell and then the millions of tourists came pouring in to sustain the local economy. That's when the seagulls came.
Seagulls are cheeky, greedy sea pirates with wings but so adorable to watch in action. They scavenge for crumbs on the boardwalk and squabble between each other, flocking to the slightest appearance of food. A naive tourist that tries to feed one of them soon attracts a whole mob of seagulls and has to fend them off like swatting bees. Katerina and I giggled watching the show; just like that, from the center of Barcelona we ended up in a circus. The solution to seagull mobbing is to stand like a statue, one of which we'll discover right next to Port of Vell.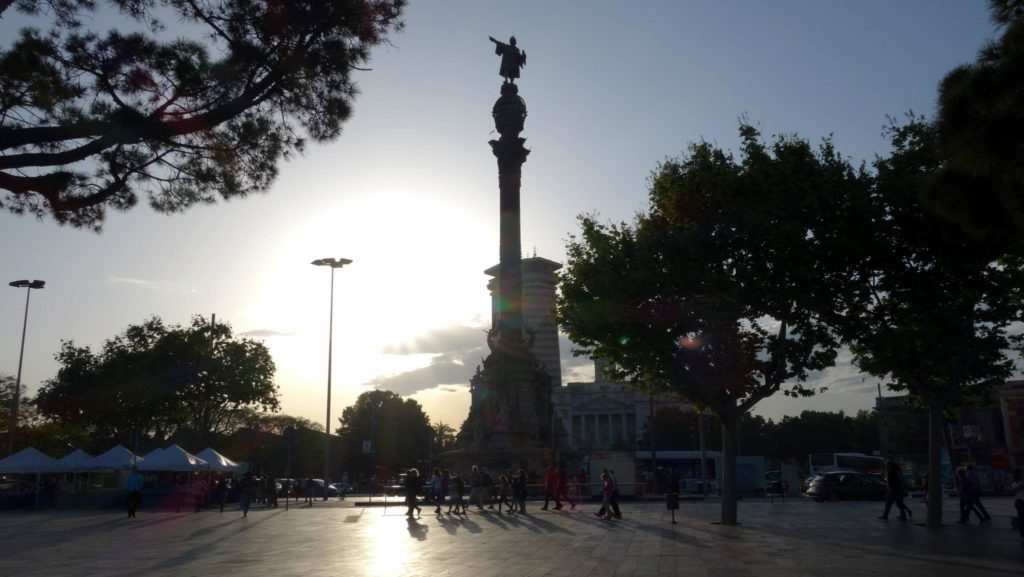 Pointing To The New World
The Columbus Monument truly shows the word "monumental" in action. The entire monument is 197 feet tall but the statue of Columbus takes only the uppermost 24 feet. The rest is richly decorated history that could be examined with a magnifying lens for years. There are griffins, sea vessel paraphernalia, statues, medallions and reliefs detailing Columbus' life, discovery of The New World and report to the Spanish court. The elevator inside the monument takes the visitors to the top, just below the statue, from where you can see the beach.
Partygoer Fiesta
Port Olimpic was a disused row of decrepit buildings until the 1992 renovation project. Once the remnants of the industrial past were swept aside, beaches shone through, becoming what's now known as Port Olimpic. During the day, people enjoy volleyball and swimming; during the night, Port Olimpic becomes a Mecca for partygoing tourists. The clubs accept patrons up to 3 a.m. and stay open until 6, with Opium Mar being the classiest and Catwalk a techno-house party on the ground floor but R&B-hip hop nirvana on the second floor.
Finally Some Zoom-Zoom
We then went to see the 2016 Spanish Grand Prix at the Montmeló track. Katerina was watching an F1 race for the first time but for me this was a chance to see Ferrari in action, who was trailing Mercedes by 81 points. Ferrari's Kimi Räikkönen struggled to get anywhere near pole position during qualifications, finishing second behind Red Bull's Max Verstappen, who broke the record for the youngest winner of a Grand Prix race.
Serene Sight Of A Deadly Predator
Next on the itinerary was the Barcelona Aquarium. We got to watch sharks, one of few living creatures that survived unchanged since the Silurian period, some 420 million years ago. With rows of teeth and a body built to swim like a torpedo after its prey, such a prehistoric predator must have been a genuine terror of the deep, snacking on fish in the murky soup of the ocean in the blink of an eye. Speaking of which, it was time to go get a snack at La Boqueria, the famous Barcelona market teeming with fresh produce and fish, before heading out into Barcelona nightlife.
Conclusion
Every year, millions of people from all over the world visit Barcelona. In 2016, Katerina and I were two of them. We made new friends along the way, met up with old ones and experienced an entire universe of thrills. Our lives are infinitely more richer because of the trip and that was only my second one. I definitely plan on visiting Barcelona again in the future to explore even more of it and make new memories that will last forever.
I got together with Adam, a 3rd generation Aussie Cypriot who I met in 2015 in Milan. On our way back, we also stopped in Athens and adopted Bakudai, an Akita pup. Imagine a wolf in the dog's body with a perpetual smile and you'll get a good sense of what it's like living with Bakudai.
Finally, a word of advice – we had a hotel smack-dab next to the Barcelona Cathedral, allowing us immediate access to all the most glorious parts of the city. Aim for lodging somewhere close to the Cathedral and you'll have a blast exploring the city.