Dubai World Cup 2017 - I'll Have Another Cup of the Same
After my trip to the Dubai World Cup in 2016 to drink in the thrill of California Chrome's remarkable performance, I was certain this year's serving of adrenaline would be much smaller. I have never been more wrong. Arrogate, and the 2017 spectacle of astonishment provided a roller coaster ride straight into the history books. It was a moment that was as entertaining as any event I have had the pleasure to attend.
Arrogate was competing in $40,000 optional claiming races as late as last summer but he managed to punctuate his seventh consecutive victory with as much style and raw power as any horse in the history of the sport. I realized the 2016 Eclipse Winning Horse of the Year had the potential to sit tactically and wear down one of the greatest champions ever after his stretch-running masterwork against California Chrome in the Breeder's Cup Classic last November. I understood that if he broke from the gate in a decent position, he would be a force to be reckoned with but what I did not realize until now is that he has as much courage and determination as I have seen.
And They're Off:
As the gate opened with as much anticipation as any moment in the world of sports one could almost hear the sigh of disgust when Arrogate broke terribly, sentenced to a penalty of what seemed to be an insurmountable number of lengths. At 800 meters front-runners, Gun Runner and Long River had left Arrogate in a 12th place dungeon of a racing position that forced me to forget about him and concentrate instead on who would take the crown formerly held by my beloved Chrome.
At 1200 meters Gun Runner took command and Neolithic grabbed second from Long River. With racing's powerhouses Mubtataahij, and Gun Runner in the top handful of competitors I was waiting to see who would cross the line first. Arrogate, sitting 10th at the time seemed incapable of running a style of a race which had to at the very least be completely uncomfortable to him and I remember feeling sad about the bad luck start that left him hopeless.
True Courage is Seldom Out-Stretched:
From 1200 to 1600 meters the resolve and talent poured from every fiber in his being as Arrogate blasted from 10th to third. I could almost sense the feelings of surprise combined with awe that the other Jockeys must have felt as Mike Smith guided his monster mount past Gun Runner and made some of the best horses on the planet seem insignificant. Sometimes an outcome of a race speaks in a small voice with a message that can almost be heard aloud delivered from the mind of the winning horse into those of his rivals. Make no mistake the roar from Arrogate's mental telegram was not only picked up by the also-rans but by millions who were watching around the world.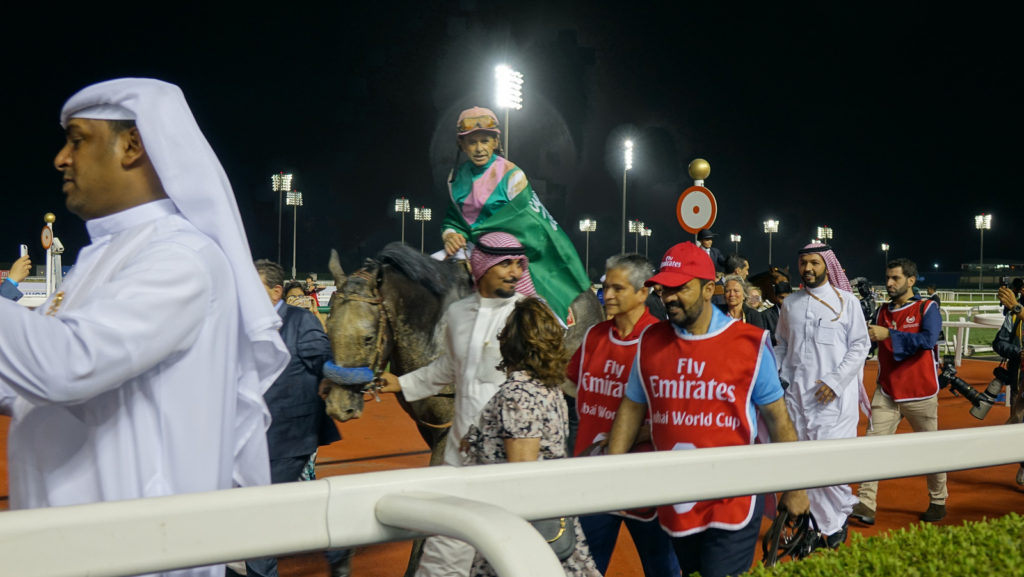 The Mystery Horse?:
To understand who Arrogate is and what he represents to racing is a story unfamiliar to many fans. Even the meaning of the word arrogate fits the horse better than possibly any other name I can remember. To seize or take claim is the textbook definition of a word assigned to a colt purchased by Juddmonte Farms as a yearling for the price of $560,000. Trainer, Bob Baffert, turned Arrogate, the three-year-old by Unbridled's Song and Bubbler by Distorted Humor loose at Los Alamitos in April 2016 and he was denied a victory when he broke slowly from the gate. He was forced to settle for the show portion of the $13,500 purse only a few weeks before Nyquist won the Kentucky Derby. By the close of 2016 the former optional-claimer horse had bested the sport's top runners and earned the title of Horse of the Year. In 2017 Arrogate has banked $13,000,000 in his two World Cup wins, Pegasus and Dubai and has total career earnings of more than $17 million in 8 starts.
Another Cup of the Same, If you Please:
I have no idea what the 2018 Dubai World Cup will bring but after watching thoroughbred rockstar, California Chrome hand over the reins to Arrogate is a transition that will stay with me forever. Chrome was a great champion of the sport of kings and Arrogate to accept the responsibility of his new role with equal conviction despite the contrast in style. Chrome gradually earned his way into the hearts of fans while Arrogate stormed our minds with his fireworks and left us swimming and punch-drunk by his talent. I can hardly wait to take a sip of excitement from next year's Cup of plenty.