I love F1 racing. It's all about speed and lightning-fast reactions that win or lose the race. Seeing and hearing these mighty machines roaring like thunder down the racing track sends shivers down my spine, which is why I attend F1 races whenever I can.
Held annually since 1950, F1 is organized across 20-some out of 71 circuits found all around the world, giving globetrotters a great excuse to travel and see amazing locations. F1 rules are tightly defined and there were cases when drivers were disqualified due to some part of their car being a couple millimeters off.
High-Octane Synchronized Ballet
The F1 driver is supported by his pit crew, which can include up to 20 mechanics working in sync to change tires, refuel the car and do other maintenance. Milliseconds matter during a pit stop, making it seem like a high-octane synchronized ballet. Fires, explosions and mishaps do occur during pit stops.
Each circuit demands slightly different settings on the car, including the type of tires, which change their performance as the weather shifts. Even a light drizzle can throw all calculations off, forcing pit crews and drivers to scramble. Luckily, Spain is known to have fair weather and we were looking forward to a fair race.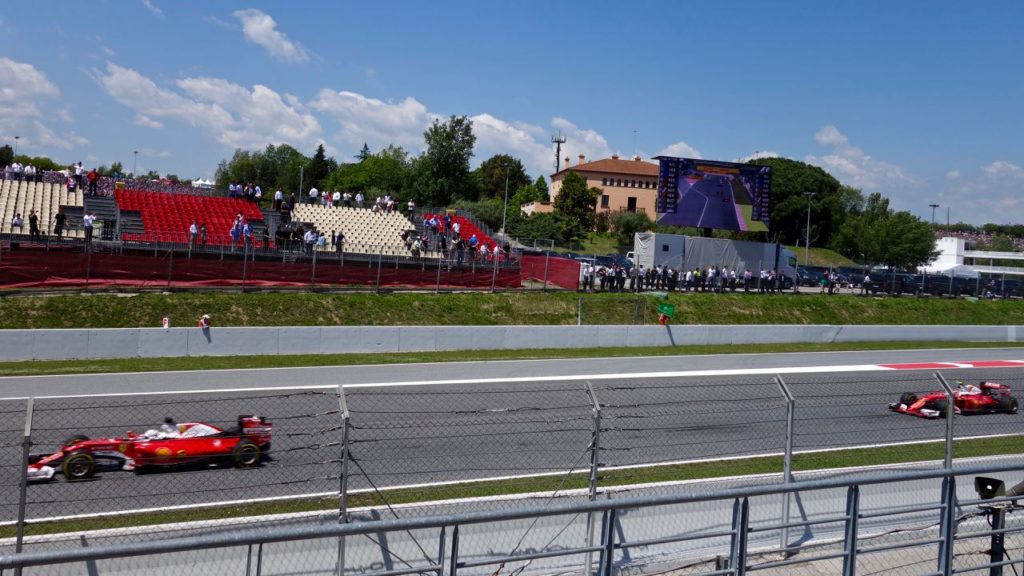 Best-laid Plans of Teams and Drivers
For a racing enthusiast, F1 races are a cornucopia of numbers and facts that reveal a layered sport that requires skill and endurance above all else. Still, there's always that factor X, the Fortune's whim that can dethrone a favorite and let a young whippersnapper win a circuit.
Each team has a different strategy that has to be flexible to adapt to the race but strategies can easily fall apart for the silliest of reasons, such as a collision between two drivers leaving tiny debris that a third driver runs onto, puncturing his tires and getting sidelined. Those teams and drivers that can stay cool no matter what are the most likely to win the race. Excitement abound in F1 racing, especially when you're in good company.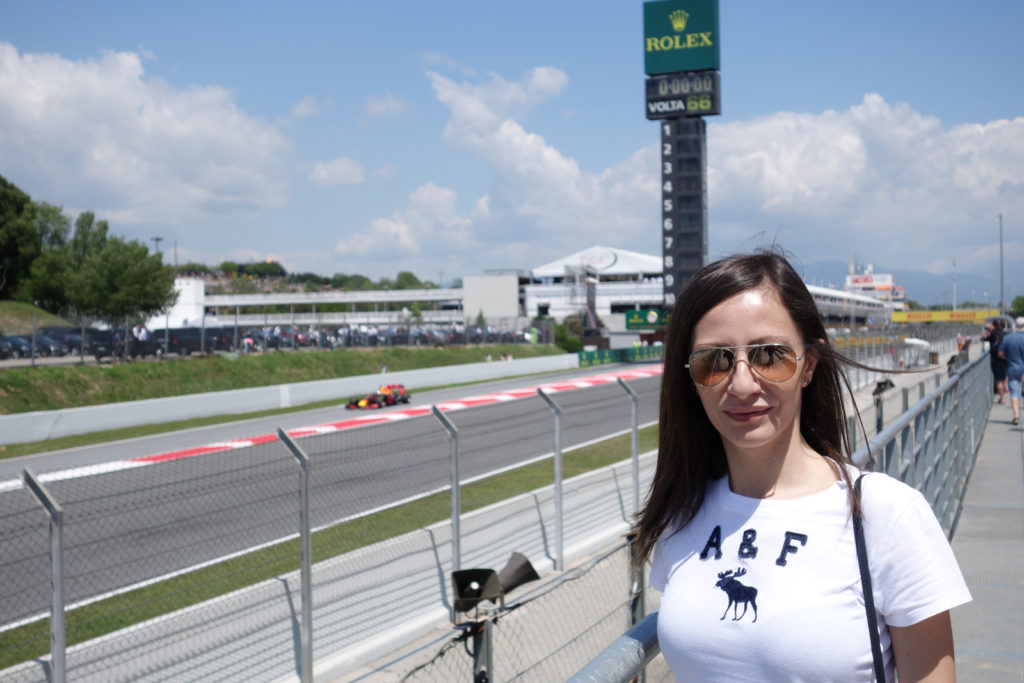 My Pit Crew
In 2016, I was at Barcelona's Montmeló circuit for the Spanish Grand Prix with my girlfriend Katerina, which is when we had an excuse to visit the city itself, which I described here. We explored Barcelona and settled on the Montmeló circuit a couple hours before the start of the race.
All throughout the day, the excitement was building up and the tension was palpable. We nibbled on delicacies and sipped on beverages at Grandstand J, from which we spectated. I chose the best spot possible, one close to the Rolex scoreboard tower and the pit lane exit, giving us instant updates on what was happening and which strategy the drivers were using.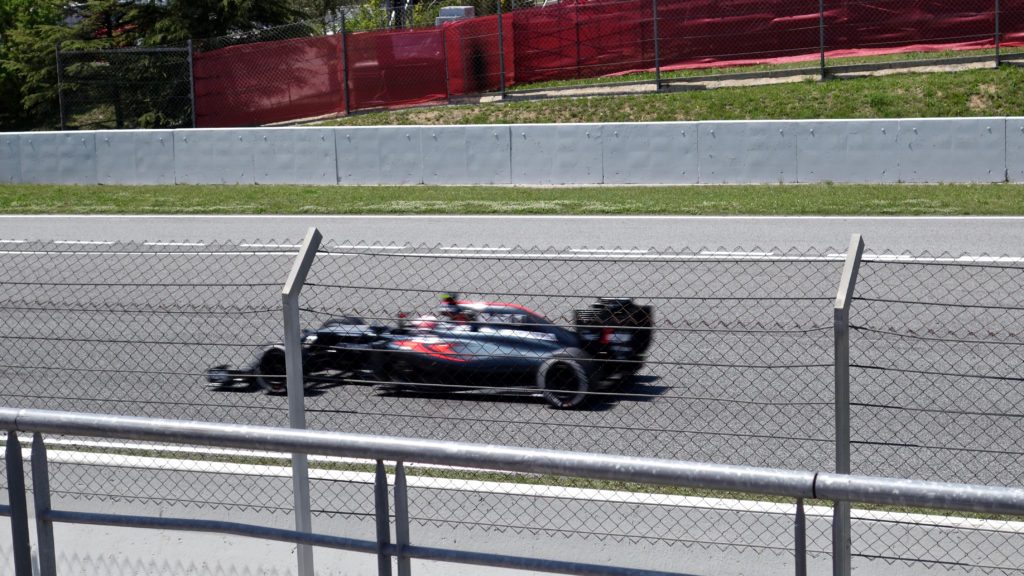 Octane Octave
Montmeló is one of the most famous F1 circuits, seeing how all teams test their cars here. Both drivers and mechanics are familiar with Montmeló, since it has all the right combination of turns and straight sections for practice. Drivers warmup at low speeds but their cars eventually reach up to 195 mph, zooming past with a deafening scream of engines.
Our seats gave us an amazing overview of Montmeló turns 6 and 7, which test the aerodynamics of cars. Strong wind has been known to cause accidents, even during practice sessions. Another quirk of these turns is that the track goes downhill on turn 6 and then uphill on turn 7, throwing a wrench in drivers' strategies. The following turns are an additional test of driving finesse, since careless drivers can easily wreck their suspensions on the chicane (zigzag bend) in turns 7 and 8.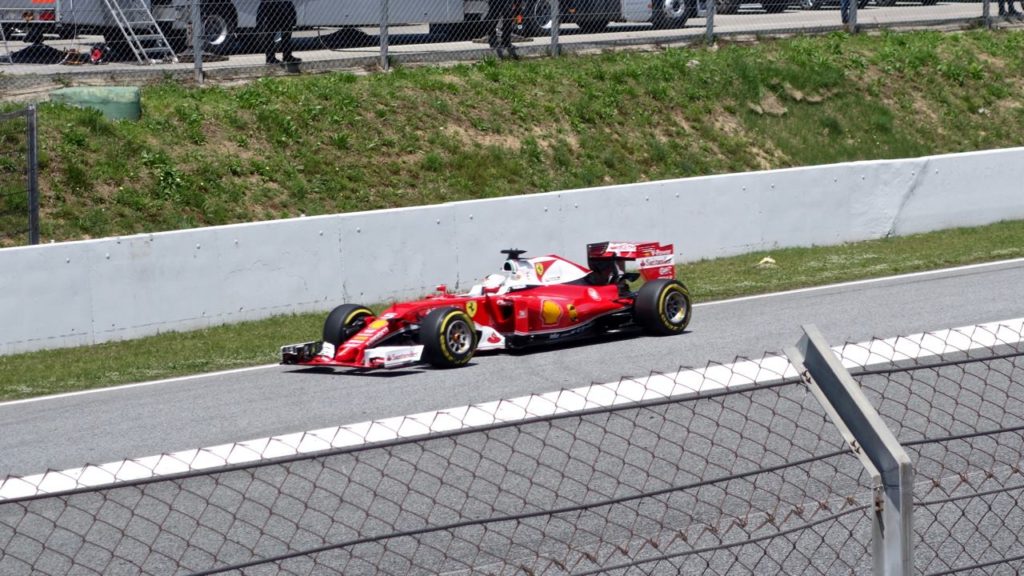 Unbeatable Schumi
When I started watching Formula 1 races, I was a big Ferrari fan, with their Michael Schumacher as my favorite driver. He was simply untouchable and would trounce all the other drivers on the track, winning seven F1 World Championship titles.
After Schumi ran his final lap, I've been equally rooting for Kimi Räikkönen and Sebastian Vettel, two promising Ferrari drivers that started out 5th and 6th in this race. They were up against Mercedes' Nico Rosberg, the defending champion and a favorite to win the race, and his teammate Lewis Hamilton; Lewis took the pole position and Nico was 2nd.
Green Light – Go!
Nico Rosberg took the lead after the first turn, defending his position when Hamilton tried to overtake him. Hamilton's car spun off the track and collided with Rosberg's car, knocking both of them out of the race. The collision made it the first time since 2011 that two Mercedes drivers retired from a race after colliding with each other.
After the race, both Mercedes drivers apologized to the team for the crash but neither accepted blame for it, claiming the other driver was at fault. The almighty race stewards examined the crash and decided against penalizing anyone, since it was a "racing incident" and nobody's fault. It turned out Nico chose the incorrect engine mode, which made Hamilton believe he's safe to overtake. Mercedes team manager said competitiveness was encouraged within the team and drivers will still be let loose against one another.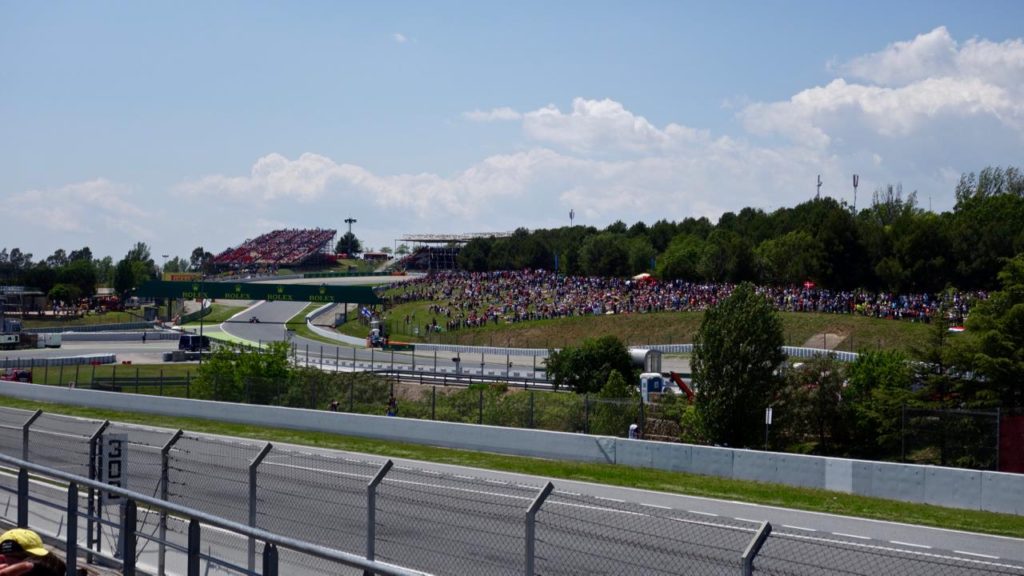 Fortune Smiles At Ferrari
Kimi Räikkönen and Sebastian Vettel snatched the opportunity to take the lead. Sadly, though they put up a valiant effort, Red Bull-TAG Heuer's Max Verstappen eventually won the race. Kimi and Sebastian took 2nd and 3rd place, stating in a post-race interview they were happy with the results.
Max Verstappen broke several F1 records that day, all related to him being a young whippersnapper. He was the youngest driver to win a Grand Prix, lead a lap and finish among top three at 18 years and 228 days old.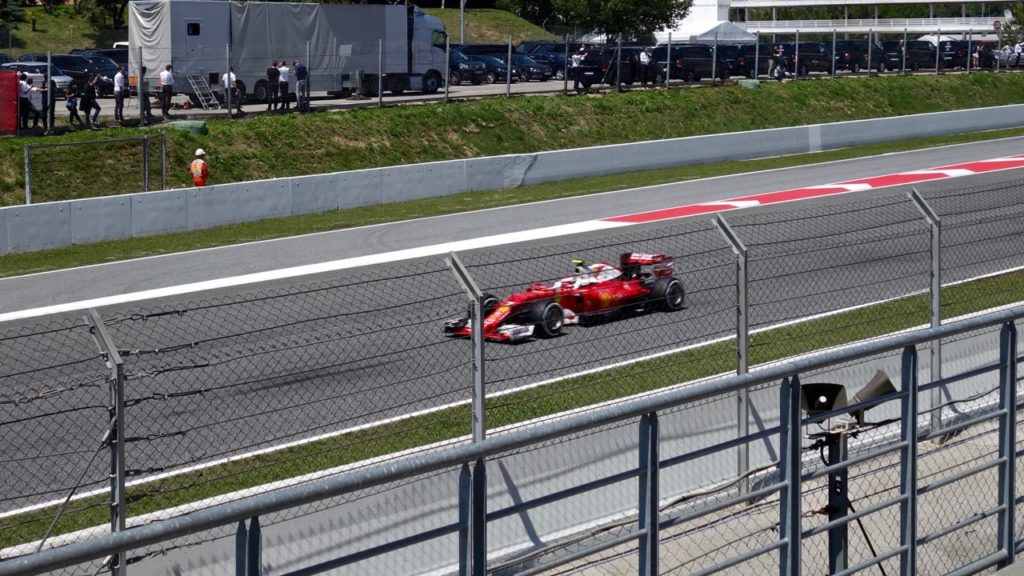 History In The Making
Despite my favorites finishing second and third, we had a blast. Words can't really convey the raw power of F1 cars, so check out my YouTube video and see them in action.
In 2015, I visited Barcelona on my own; in 2016, I did it with Katerina. On our return trip, we got our Akita pup and named it Bakudai. Traveling to Barcelona has expanded my horizons, introduced me to new people and filled my heart with high-octane love. I can't wait to do more.